JotForm – A clever way to collect data using your SITE123 website
Time to get the most out of your website and its visitors. SITE123 websites bring you visitors, reinforce your brand and really make a difference. Now, with the smart use of JotForm, you can add a form to your website to gather feedback, conduct market research, and get data from website visitors to use in future projects such as sales, product launches and much more.
Imagine if you could turn your website into a business intelligence machine… 
For those who are not familiar with the term business intelligence, it is simply the use of tools and applications to model data for analysis. This technique lead into performance enhancement and decision-making. 
Your website made on SITE123 already gives you more credibility and enhances your performance in business in general. And it could well help you in improving your results as well as give you insights for your decision-making process. Sounds too good to be true? Ok, it does. But it actually is true. And more than that… It's not just true but very easy as well.
Consider this thought for a moment: not so long ago, most SITE123 users would think that building a website was something that only design and coding professionals could do. But every single one broke that taboo at some point and realized it was just a matter of finding the right solutions. So after some research, you came across a few website builder options and chose SITE123 for whatever reasons you may have had. It could be that you chose it for the templates' quality or for the ease of use...
That doesn't really matter here because by now you have already registered, built and tweaked your website to your taste. The point is: it was much easier than you would think a couple years ago, wasn't it? And most likely, you are very happy with your SITE123 website, aren't you?
In this same direction, you can now start to add up some tools to your website using the SITE123 app market and make it even more professional. Adding tools available will make your website stand out from the crowd and give a more corporate feel to it, which in the end brings respect and admiration from all visitors. 
One of the best apps you can use on your website in terms of data is JotForm. It allows you to build forms and embed them to your website. The installation, needless to say, is easy as 1, 2, 3 as well – just like building your website.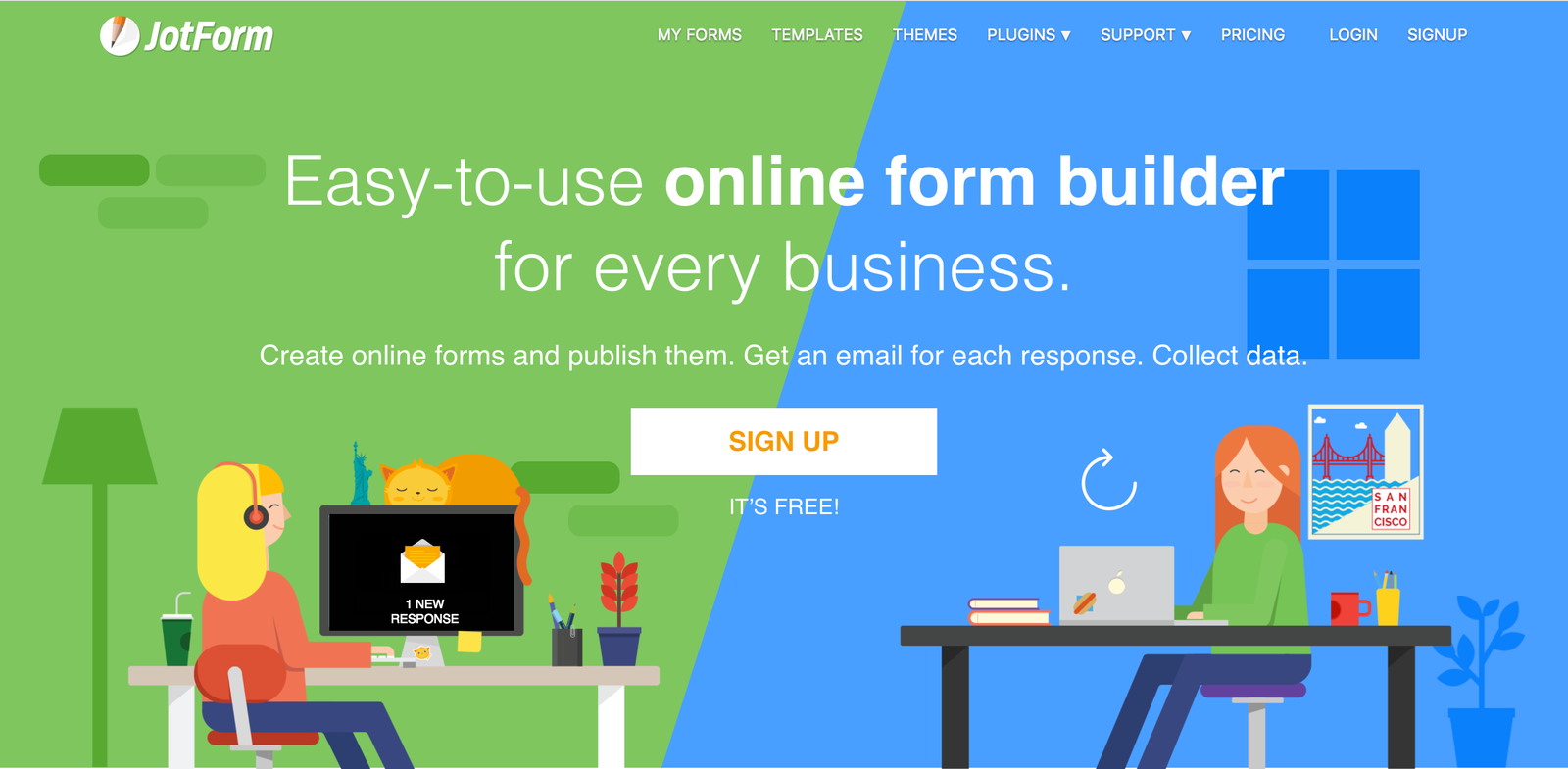 Forms can have many different uses. You could use a form to let your customers sign up for a service, to receive job applications, to get feedback from your customers, collect market research data, to test users' receptivity to future products or services and so on.
It doesn't matter what type of form you need or would like to build. What really matters is how you are going to do it and JotForm is one of the best places to get started. It is the leading tool in form building. Companies like Facebook and Adobe use it. Those are successful companies with huge teams of programmers and they still choose to use JotForm.
You can now do that as well! Click here and add JotForm to your SITE123 website today.